This eatery caught my attention because it is located in the same space once occupied by a
Chinese buffet
that I patronized a few times in the past. The service and food were pretty good so I am quite surprised that they are no longer in operation. Running a successful restaurant is a major undertaking in that it requires a draw full of cash, talent, help, and dedication. One also needs a great location, location, location, that is easily accessible to customer traffic. It is a business that I personally would never tackle unless I am the owner and am able to find a reliable, dependable, on honest person to manage my establishment.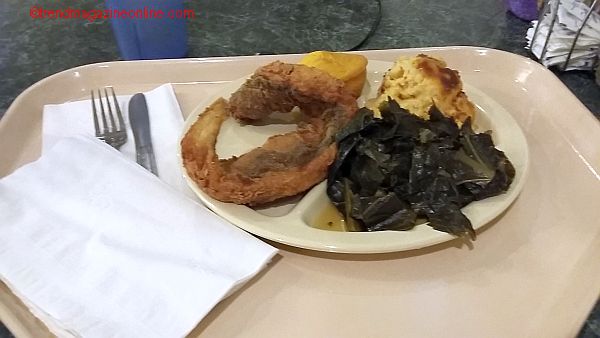 I had planned on visiting the
Queen's Soul Food
restaurant for a few months before the opportunity arose when I was in the area just before the typical lunch crowd arrived at noon. You have to have extreme confidence in your product/service to include the words soul and food in your eatery's name. It says to me that you have consulted with someone's grandmother or great grandmother who was born in the south (below the Mason Dixon Line) no later than
1910
, or, a relative who carefully paid attention to what they were doing in the kitchen. Unfortunately many great soul food restaurants perish after the death, or retirement, of the original owner. The former
McDonald's Cafeteria
, located on
Beatties Ford Road
off
I-85
here in
Charlotte
,
NC
, is one good example of that phenomenon. Its history is covered on the
QCT Charlotte Black/African-American Heritage Toursm
Another challenge that this eatery faces is that it is located in the same shopping plaza as the very popular K&W Cafeteria which has a long history of serving up mouthwatering southern cuisine. In fact, some of the older folks here have rumored that they now employ former cooks from the old McDonald's Cafeteria on Beatties Ford Road. Another quirk/twist to this establishment is that the owner is of Asian descent. I have been told that he learned how to cook soul food while working on a military installation overseas. This proves my point that the talent/skill of preparing good food can be learned. In fact, I used to frequent a Chinese take-out restaurant that was run my Mexicans.